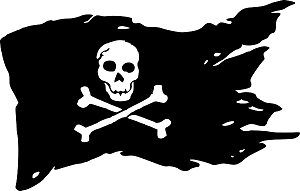 Along with all of the games we will be playing today, my crew and I are enjoying some swashbuckling inspired foods! Some of these are super easy to throw together and others require some serious prep time (there are time saving as well as gluten free alternatives included with my recipes and suggestions!). Many of the recipes are kid friendly as well so no one has to miss out on the festivities. Our menu includes a full variety of foods ranging from one-handed sandwiches to scurvy fighting fruit salads to a treasure trove of desserts and cocktails (mocktails too!).
Catch of the Day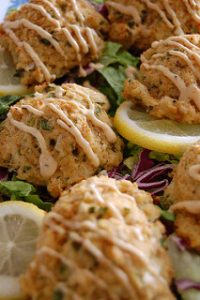 Years ago, while I worked for the university-run catering company at my alma mater, Radford University, I learned the recipe that we used for these amazing crab cakes! Where they got the recipe, I don't know as they have been using it for well over a decade at this point. If anyone happens to recognize it, please let me know so we can give further credit to them. They can be made in any size you'd like (I'm making mine small enough to still be finger foods), the recipe is easily scalable, and these cakes can be prepared well ahead of time. Leftovers keep well, too! In addition to the crab cakes themselves, the creole remoulade topping is a really nice touch for adding an extra burst of flavor!
Ingredients
½ lb Backfin Crab Meat
1 lb Jumbo Lump Crab Meat
¼ cup Chopped Parsley
¾ cup Bread Crumbs
1 large Egg
¾ tsp Worcestershire Sauce
¾ tsp Lemon Juice
¾ tsp Seafood Seasoning
¾ tsp Dijon Mustard
½ cup Mayonnaise
Instructions:
Combine the egg, Worcestershire sauce, lemon juice, seafood seasoning, Dijon mustard and mayonnaise in a bowl.
Place the crab meat, parsley, breadcrumbs into a separate bowl. Mix lightly until combined. Add wet ingredients to the crab mixture and combine lightly. Portion into crab cakes and bake, broil, or pan fry until brown on both sides.
For the Creole Remoulade
1 cup Mayonnaise
4 Tbsp minced Cornichons
2 Tbsp minced Red Onion
2 Tbsp Capers, chopped
2 Tbsp finely chopped Red Bell Peppers
2 Tbsp finely chopped Yellow Bell Peppers
2 tsp Minced Garlic
2 Tbsp Fresh Lemon Juice
Salt, to taste
Black Pepper, to taste
Cayenne Pepper, to taste
Tabasco Sauce, to taste
Directions
Combine mayonnaise, cornichons, onion, capers, red and yellow peppers, garlic, and lemon juice in a bowl.
Add salt, black pepper, cayenne pepper, and Tabasco sauce to mixture.
Mix thoroughly and refrigerate.
Seaweed Wraps
Wrap sandwiches are some of my favorite snacks to make for parties. They're usually fairly easy, have tons of filling options available, and can be served in varying sizes. For Talk Like A Pirate Day, I'm using smaller tortillas and serving these cut in half instead of serving them whole or as pinwheels. Listed below are some of my personal favorite recipes to use when making these!
Since I am calling these Seaweed Wraps to fit with my pirate theme, I wanted to incorporate as much of the theme into them as possible. While any kind of tortilla can be used, I opted to go with spinach wraps due to their green color. These can be purchased at various grocery stores or even made from scratch if you're not pressed for time. (I have found that the homemade ones are far healthier than the store-bought ones as they contain more actual spinach in comparison) My favorite recipe to use when making my own is from Hot Pot Cooking and is as follows (you can also find tons of gluten free recipes for them online! One of my favorite ones is from Fork and Beans and can be found here):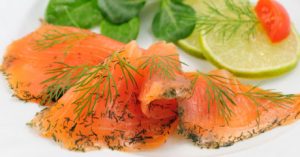 As for fillings, these can be filled however you'd like! Chicken Caesar wraps, BLT wraps, all veggies, etc. However, again sticking with theme, I chose to reach back to my Scandinavian roots and use a combination of gravlax (smoked salmon will work too if gravlax aren't available in your area or you don't have time to make them), fresh herbs, and avocado. The recipe below is slightly modified from the one found on Webopskrifter.dk and is for 4, but can easily be scaled to fit the needs of your pirate crew!
Ingredients:
8 Spinach Tortillas
1 8oz package of Cream Cheese
1 lb Gravlax (or Smoked Salmon)
4 Avocados
2 bunch Dill
4 bunches Parsley
1 medium Red Onion
1 lemon
Salt, as desired
Pepper, as desired
Directions:
Spread a thin layer of cream cheese on the tortillas and sprinkle with salt and pepper. Cover half of tortilla with a few pieces of salmon/gravlax.
Slice the avocados lengthwise, remove the pit and skin. Cut avocado into slices and cover with lemon juice. Place avocado in a strip in the center of each wrap.
Finely chop the red onion and sprinkle it over the entire wrap (as much as desired – I don't use very much as I like to be able to taste my gravlax!). Rinse the herbs and spread them evenly over the avocado.
Roll the wrap. Cut. Serve chilled.
If you're like me, you also have some friends or small children in your group that don't like fish. With this being the case, I am also making Thai Chicken Crunch Wraps using a recipe that I found on one of my favored food blogs: Tastes Better From Scratch. These wraps offer a healthy, fish free alternative for my picky land lubbers! Don't like wraps or don't have the time needed to roll them all? You can also make "crabwiches" from croissants using "eye picks" (these are my favorite or you can even make your own by gluing some googly eyes to the end of a regular wooden or plastic toothpick!) to bring your little crabs to life or "starfish sandwiches" using a star shaped cookie cutter to cut your sandwiches into the perfect sized, star-shaped finger sandwiches! Much like with the wraps, these can be filled however you like so they are easily adaptable to any dietary needs or desires!
Seashell Salad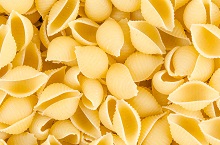 Any favored pasta salad recipe can work for this concept. All that's really needed is the shell pasta substituted in. However, I've been trying to find some healthier alternatives to suit my desired changes for my lifestyle and I came across a really good tropical fruit and pasta salad recipe online! The recipe below is my adaptation of it as I didn't really care for the fruit flavored pasta they included in the recipe. I also used a more carbs-sensitive pasta as it is a dietary need in my household, but you can use whatever pasta you'd like! Not a fan of the idea of pasta and fruit mixed together? That's okay! A plain fruit salad can be prepared rather quickly and can be labeled as "Chum" or "Pirate's Booty" to help stick with the theme!
Ingredients
½ lb Shell Pasta
2 tsp Lemon Infused Olive Oil
1 cup Fresh Pineapple, cut into bite-sized chunks (I make this optional as I really don't care for pineapple)
1 cup Grapes
1 Kiwi, sliced into "half moons"
1 cup Cantaloupe, cubed
¼ cup Mint Leaves, minced
For the Sauce:
1 Mango, cubed
3 Tbsp Lime Juice
2 tsp Fresh Ginger, peeled and grated
1 Tbsp Honey
3 Tbsp Apple Cider
Directions:
Cook pasta in 6-8 quarts of boiling water for about 10-12 minutes. Do not overcook; you want the pasta to still be firm. Drain and place pasta in a large bowl.
Gently mix in sauce and fruits.
Cover with plastic wrap and refrigerate until thoroughly chilled.
Dead Men Tell No Tales 3-D Skull Cake
Bryton Taylor's original, gluten free recipe for her Kraken Rum Cake can be found on her blog Food in Literature here. I've modified it somewhat to use what I had on hand at home as well as switched it over to the US system of measurement and temperatures.
Ingredients
3 ½ cups All Purpose Flour
1 ½ tsp Salt
4 ½ tsp Baking Powder (trust me, this was the easiest way to have this conversion make sense on paper)
½ cup Cocoa
2 cup White Sugar
1 cup of Butter, softened
¾ cup Milk
¾ cup Kraken Rum
6 Eggs
For the Glaze
7 Tbsp Butter
¼ cup Water
1 cup White Sugar
¾ – 1 cup Kraken Rum
¼ – ½ cup Dark Chocolate Melts (I ended up needing more than ¼ cup as I felt it needed more flavor to it)
Directions
Combine flour, salt, baking powder, cocoa and sugar in a large bowl.
Cut in softened butter and beat together with milk, rum, and eggs until all smooth.
Baking the cake is where it gets interesting. As you can see, I used a 3D skull pan (mine is Nordic Ware, but Wilton makes one too – Wilton also makes a mini 3D pan so you can make smaller versions of this as well!) so I simply followed the directions that came with the pan. This can be done with any shaped pan you choose to use. If not using a shaped pan, this cake can make two 9" cakes and should be baked at 350 degrees for 30-45 minutes.
Directions
In a saucepan, melt together the butter, water, white sugar, rum and dark chocolate melts. Stir constantly until all is combined.
Once cake and glaze have cooled, pour the glaze over the cake until all is used.
While making my 3D cakes, I also used a dark chocolate fudge filling to keep the pieces together. This recipe is meant for making single layer cakes so I improvised. If you don't want to use a glaze, Kraken rum can also simply be added to your favorite icing recipe!
As a kid friendly alternative for dessert, "Gold Dabloons" are some of my favorite, easy things to make. Using a package or two of oreos (any flavor will do) and a can of edible gold food spray, these cookies are sure to be a hit! The best part? They only take seconds to make!
Carribean Sea Water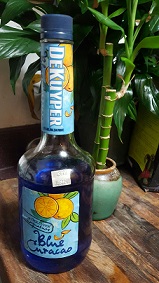 With all of these tasty snacks available, a very particular saying comes to mind: "water, water everywhere and not a drop to drink." We don't want that to be our situation so I've got several drinks on the menu for my cohorts, their kids, and myself! In addition to take care of those parched throats, what a better way to combat scurvy than with some citrus-y drinks? For those of age and desire, I have trussed up one of my favorite drink recipes with a new name to make it a little more "pirate-y." The recipe below is for 1 drink, but can easily be scaled to fit the number of guests you have or even to fill a punch bowl!
Ingredients
1½ oz Tequila
1 ½ oz rum
1 ½ oz vodka
1 ½ oz Gin
1 ½ oz Blue Curacao Liqueur
1 splash 7-Up/Sprite/Sierra Mist
Sweet and Sour Mix
Directions:
Build drink over ice. Fill with Sour Mix and add a splash of 7-Up.* Serve.
* If making in a punch bowl, add ice and 7-Up right before event begins.
For the younger rapscallions or those landlubbers who choose not to partake, a fun alternative to water (or, in the case of my party, "Lagoon Water") is my Pirate Punch! A mixture of ginger ale and orange juice can go a long way. Want to make this into a cocktail too instead of a mocktail? Simply add some Vodka to the mix!