Unfortunately, my Player 2 and I will be welcoming the Year of the Rooster by working a closing shift at the restaurant we both currently work in. However, this doesn't mean we don't still intend to celebrate earlier in the day. Instead of hosting a "game night," we will be hosting more of an early afternoon gathering. With that in mind, I needed to come up with some foods that would be light enough to work as lunch time munchies, but would also work out for trying to host a game or two amongst friends. With this in mind and a quick perusal of my shelves of cookbooks, an idea quickly began to take form: DUMPLINGS!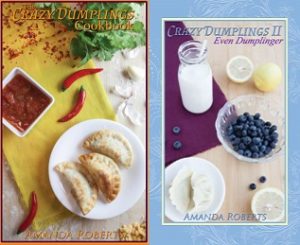 Early last year while perusing Kickstarter, I came across a campaign that I absolutely couldn't ignore: a new cookbook from Amanda Roberts. Having grown up eating both the traditional and American Chinese foods that mother had learned to make while working in a Chinese restaurant in her youth, I have collected quite a few Asian cookbooks over the years, but none thus far have been as fun as this one promised to be. Jiaozi/Gyoza/pot stickers/dumplings have always been one of my favorite items so I immediately jumped on the chance to help bring Crazy Dumplings II: Even Dumplinger to life! During the campaign, I also went ahead and picked up the cookbook that started the set: The Crazy Dumplings Cookbook. Ranging from traditional recipes to those inspired by various ingredients and combinations from across the globe and even a few with a geeky twist, there is sure to be a savory or sweet dumpling recipe for everyone within the pages of these two cookbooks!
For our gathering, we are choosing to keep it Chinese oriented (sorry Dr. Who fans, no fish and custard dumplings this time…but there is a recipe for that in the first book!) so in addition to my Player 2's own beef filling recipe, we chose to try out Amanda Roberts' General Tsao's Chicken Dumplings, Sweet and Sour Chicken Dumplings, and Cola Chinese Chicken Dumplings. These will be followed up with a recipe from one of my grandmother's cookbooks for egg custard tarts for dessert (another one of my favorites and a dessert that is not overly sweet). With this selection, we are hoping to include a little bit of sweet, some spicy, and some new flavors for our mid-day get together. Each recipe makes a dozen (12) dumplings, which I feel is the perfect amount for a meal for 2 yet also leaves room for us to use multiple recipes for game night and not overwhelming ourselves with too much food. In addition to the filling recipes themselves, there are also recipes for various dipping sauces and instructions for different dumpling folds included in both cookbooks! For anyone looking for a unique twist on a traditional food, something fun to try for Chinese New Year, or for a few new finger foods to out for game night, I would highly recommend either – or both – of the Crazy Dumplings cookbooks by Amanda Roberts! Personally, I am hoping to see Crazy Dumplings III come to fruition some time! In addition to being able to purchase these from Amazon.com, you can purchase them directly from Roberts' blog: Two Americans in China.
As long as we are mindful of our sauces and dips, these should be perfect for setting up nearby as snacks for while we play. What are we playing this year, you ask? I'm introducing my game group to the new expansion for Lanterns: The Harvest Festival called Lanterns: The Emperor's Gifts! You're more than welcome to read my thoughts on the game and what the newest release from Renegade Game Studios adds and changes as well as learn more about how we are choosing to celebrate the Lunar New Year!