It's that time of year again! March 14th or 3/14, to be exact, is known as Pi Day due to its resemblance to the mathematical constant of π (Pi). Last year for Pi Day, I threw a party and had myriad types of pies ranging from meat hand pies to the most commonly thought of type of pie – dessert! This year, however, I decided to feature one of my favorite types of pie: pizza! Now, I'm not just talking about the basic cheese, pepperoni, or supreme pizzas, but homemade, gourmet pizzas. These are fast, easy, and completely customizable for dietary needs or personal preference.

For some people, the types of crust that the pizza goes on can be more important than the toppings themselves. There are many different types to choose from when making your own: thin crust, deep dish, stuffed, classic, gluten free, flatbread, whole wheat, cornmeal, flavored crusts (like herb, sun-dried tomato or spinach), even pretzel crusts can be made at home! Some stores like Safeway or Kroger also sell take home pizza dough to save some time and there are also box mix options or Pillsbury Pizza Crust in a tube if you don't want to make your own. Below, you will find my classic pizza crust recipe (it has been modified over the years from the one on the back of the Fleischmann's Pizza Crust Yeast packages to fit my needs and my various baking conditions):
Ingredients:
2 – 2 ¼ c Flour
1 pkg Active Dry Yeast (I use Fleischmann's – and they even make one specifically for pizza!)
¾ t Salt
1 ½ t Sugar
2/3 c Warm Water
2-3 T Olive Oil
Directions:
Preheat oven to 425 degrees.
Combine 1 cup flour, undissolved yeast, sugar, and salt in a large bowl. Add warm water (110-130 degrees) and oil. Mix until well blended; approximately 1 minute.
Add, gradually, enough remaining flour until a soft dough ball is formed. Dough should be slightly sticky.
Knead dough on a floured surface, adding flour if needed, until smooth and elastic; about 4 minutes. With floured hands, pat down the dough to fill a greased pizza pan or roll out into a 12 inch circle and transfer to a greased pizza pan.
Use preferred toppings and back on the bottom oven rack for 12-15 minutes or until cheese is bubbly and crust has begun to brown.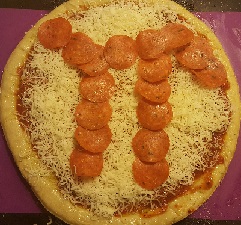 As for my toppings this year? Well, I'm actually making several different pizzas. Firstly, I'm doing a fig and goat cheese thin crust pizza with caramelized onions and arugula. No sauce, per se, but extra virgin olive oil will be brushed over the crust before I put on the toppings as I feel anything heavier would distort the flavors of the fig and cheese. I'm also making a pizza with pesto sauce, artichoke hearts, chicken, sweet and hot peppers, roasted red peppers, Mozzarella and Asiago cheeses, and fresh garlic cloves on a classic crust (one of my favorite pizzas ever to make, by the way!). For those wanting something more traditional, I am, of course, providing a spicy pepperoni pizza with a Pi Day twist!
Don't have the time to make them yourself or have an untrustworthy oven (it has taken me years to learn how to work with mine and adjust to its quirks)? Papa Murphy's customizable take and bake pizzas are always a great option or a stop by your local pizzeria so you don't have to bake at all. Some locations, such as Pieology, even offer discounts, freebies, or pizzas specially priced for $3.14! Many of these deals are not just limited to pizzas, so check your area to see what's available near you!